Geronimo
. "Our" is in quote marks because nobody
owns
a cat; cats own themselves and invite humans to join them in their all-encompassing self-regard.
Thus the nickname. Whenever Geronimo meows, it means he wants something: food, loving, lifting onto or off the bed, access to the out-of-doors (or back inside). He is nothing if not insistent, but rewards his human companions for these small kindnesses with purring, headbutts and slow blinks. We skritch him into blissful unconsciousness, then go back to what we were doing. During such loving-sessions I often tell him, "Your job here is to let us adore you." It's a vocation for which he's well-suited.
His name, like his little sweet self, came to us more than ten years ago. I was meditating while looking through a bedroom window when a beautiful cat walked across my field of vision. I went outside to investigate; he toppled on his side, and purred when I skritched his face. "Geronimo" was the name on his collar; the collar (which also bore a telephone number) and his glossy coat told me he was well-cared for by someone, although his clipped ear proclaimed him to be feral and his bum right eye declared some sort of accident. A puzzle.
He stuck around for a few hours, then left, then repeated this pattern over the next couple of days. He didn't want to come inside, so we made a makeshift bed out of a banker's-box lid and a towel. When he stuck around for three days straight, Ann & I decided to call the number on his collar. "Your cat is staying with us for some reason, and we didn't want you to worry," we told the woman who answered the phone. She came and retrieved him.
He came back. So she retrieved him again.
He came back again. Another retrieval. Another comeback.
At this point, it should be noted that he was crossing Sonoma's busy, five-lane main street to visit us. The woman who answered the phone told us that Geronimo lived with five other cats at her apartment, and was probably glad to have a stay-at-home human all to himself. "He apparently wants to live with you," she said. "I'll bring over his dish and food."
And that's how we came to know our Beloved Animal.
UPDATE: At 5:15 p.m. on 5/5/20, our Beloved Animal — riddled by incurable, painful cancer — passed into the What-Was, courtesy of a compassionate and kind veterinarian's home-visit. In pace requiescat, little buddy. Hope I see you later.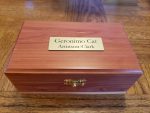 THE TITLE OF THIS POST is my unique (so Google tells me) signifier for "our" cat,