Neal Ross Attinson
has worked at various times as a market research drone,
spa
attendant
,
printer's devil
,
printer
, bookseller (
new
and
used
),
bike messenger
,
hawker
,
deckhand/docent
,
broadcaster
, Hebrew school teacher,
wedding officiant
,
process server
and
newspaper
reporter
. (And that's just what he's been
paid
for.)
Neal's news career began in 1995 at Santa Rosa radio station KSRO. While reporting for the Sonoma Index-Tribune between 1998 and 2003 he earned professional accolades from the National Newspaper Association (Third Place, Best Breaking News Story of 2000; Second Place, Best News Feature of 2002), Society of Professional Journalists, Northern California (2001 James Madison Freedom of Information Award) and the Sonoma County Press Club (2001 Lincoln Steffens Investigative Reporting Award). He has also written for the Sonoma Valley Sun, North Bay Bohemian, Petaluma Argus Courier, Novato Advance, PunkTorah.Org and jweekly; and "appeared" on KOME and KSVY and in jweekly and The Forward, as a subject. (Clips available here.)
A Para-Rabbinic Fellow since July 2000, Neal leads a twice-monthly living-room Torah study in the Sonoma apartment he shares with two companion animals and an enormous pile of books.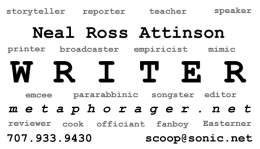 Contact Me:
– Blog: http://metaphorager.net
– Snail mail: POB 1313, Sonoma CA 95476
– Email: scoop at sonic dot net (or click the business card)
---