Neal Ross Attinson
has worked at various times as a market research drone,
spa
attendant
,
printer's devil
,
printer
, bookseller (
new
and
used
),
bike messenger
,
hawker
,
deckhand/docent
,
broadcaster
,
wedding officiant
,
process server
and
newspaper
reporter
. (And that's just what he's been
paid
for.)
Neal's news career began in 1995 at Santa Rosa radio station KSRO. While reporting for the Sonoma Index-Tribune between 1998 and 2003 he earned professional accolades from the National Newspaper Association; Society of Professional Journalists, Northern California; and the Sonoma County Press Club. He has also written for the Sonoma Valley Sun, North Bay Bohemian, Petaluma Argus Courier, Novato Advance, PunkTorah.Org and jweekly; and "appeared" on KOME and KSVY and in jweekly and The Forward, as a subject. (Clips available here.)
Since 2005, Neal has been experimenting with "mythical gastronomy" — short, episodic fantasy tales concerning a mercenary cook (and reluctant holyman) in a far-off land. A Para-Rabbinic Fellow since July 2000, in non-plague times (and health permitting) he leads a twice-monthly living-room Torah study in the Sonoma apartment he shares with a companion animal and an enormous pile of books.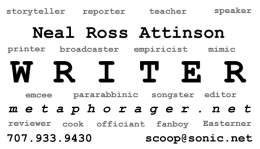 Contact Me:
– Blog: http://metaphorager.net
– Snail mail: POB 1313, Sonoma CA 95476
– Email: scoop at sonic dot net (or click the business card)
---