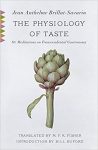 THE FIRST BOOK THAT ACTUALLY got me thinking about food as something other than tasty fuel with which to stuff my face was Jean Anthelme Brillat-Savarin's 1825 work, The Physiology of Taste; or, Meditations on Transcendental Gastronomy. Part travelogue, part autobiography, part science text, Physiology deals with such pleasant problems as how to cook a fish that's too big for the oven; the exacting method of digestion; why restaurateurs do what they do; how to survive a revolution; how to lose weight; and how to make the perfect cup of hot chocolate or coffee.
"The Professor" (as the author delighted in calling himself) could be likened to the Alton Brown of his day in his eye for detail, process and precision. Larded with personal anecdotes and recipes, Brillat-Savarin's magnum opus delights the mind as well as the conceptual palate. There have been many translations of this work; the "Leete's Island Books" edition (with a foreword by Arthur Machen!) first lays out a section of twenty aphorisms followed by an imaginary conversation between "The Author" and "The Friend." Here are the first two paragraphs of the Preface, which follows these and seems to begin the text proper:
The decision to lay the present work before the public, for their rejection or approval, left me with the simplest tasks to perform, no more, indeed, than the setting in order of a quantity of material long since gathered together: I had saved it up for an amusing pastime in my old age.

When I came to consider the pleasures of the table, and all that relates to them, I early perceived that something better than a mere cookery-book might be made of such a theme; it became clear that so important a business, bearing so closely on the health, happiness, and everyday affairs of men, was deserving of broader treatment.