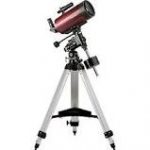 AFTER I BOUGHT MY OWN telescope (an Orion StarMax 90mm Maksutov-Cassegrain with equatorial mount), I would take it out in the early evenings on the sidewalk in front of our building with a sign leaning against the tripod that read, "FREE MOON TRIPS!" If anyone happened by (as they often did,) I would ask them, "Would you like to see the Moon?" Almost everyone did, and I took great pleasure in their gasps of awe as they saw up-close lunar craters for perhaps the first time.
Something of the same spirit infuses the nascent #popscope movement. Dubbed "A Telescope For Every Neighbourhood," #popscope "aims to reconnect diverse communities to the night sky and to each other by hosting free, 'pop-up' astronomy nights in public spaces," according to the group's website. "Since 2014, #popscope has hosted 300+ events that have connected nearly 16,000 people to each other and to the sky."
The premise is simple. Set up a telescope in a public space and wait for would-be skywatchers. The #popscope movement has three aspects: "We connect people to each other, in-person and through social media … We educate diverse communities about science and astronomy … We are re-thinking how public spaces are used and allocated."
The project is based in cities and suburbs the world over. Check them out at http://popscope.org!