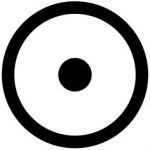 1. WHILE I DON'T BEGRUDGE THE siblings Wachowski their success, and I don't really believe they stole my idea, as the first populizer of something called "The Matrix" I feel I must firmly and finally speak my piece.
2. Make a circle with a dot in the center. The dot represents you. Within the circle is the sum of your knowledge. Outside the circle is the vasty unknown. The circle itself? I call that The Matrix.
3. This simple reality-diagram was created by me c. 1990, long before the first installment of the popular film series, as part of the work I did for Obscure Research Labs. The Matrix is a place of memory (did I unplug the toaster?), faith (I've never been to Tucson, but I believe it exists), and supposition (the picture you form of the person writing this). It's how and where we account for everything outside our direct perception. And tapping into it can be powerful and dangerous; it is the realm of poet and demagogue, of myth and metaphor. Navigating it takes both skill and determination.
4. Not having seen the popular film series (I can be spiteful sometimes), I have no idea how much the Wachowski Matrix resembles or differs from ORL's version. If you do, I invite you to kindly and gently clue me in.
5. But remember: We were here first.