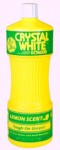 CLEAN DISHES NOT ONLY LOOK nice, they're more healthy to eat from. Everyone has their own special method for this daily (or twice-daily) chore, and I've found this one to be most efficient in terms of time and water savings:
YOU WILL NEED:
– Large or divided sink
– Drain rack
– Dirty dishes
– Dishwashing soap (I like good ol' yellow-bottled Crystal White for its inexpensivity and universality)
– Rubber gloves
– Sponge with one soft-scrub side

1. Don rubber gloves (they insulate your hands somewhat and enable higher water temperature, as well as increasing your gripping power). Sort the dirty dishes in the left (side of the) sink into plates, bowls, cups/glasses, utensils. (I usually leave big pots, pans etc. on the stove until finished with everything else.) Rinse with hot water.
2. Apply and integrate soap to sponge (about a 1/2 tablespoon). Get it good and lathery.
3. Scrub dishes with sponge, stacking as you go in the right (side of the) sink. Then wash the cups/glasses. Then the utensils. (Use the soft-scrub only for stuck-on stuff). Relather sponge as necessary (sometimes it just needs a bit of water).
4. Put water on highest heat you can stand (hence the gloves). Rinse stacked dishes in such order as to best fit the rack (they're probably stacked that way already from step 3).
5. Collect pots, pans, etc. from stove. Repeat steps 3 and 4. (Be careful not to use the soft-scrubber on Teflon, T-Fal or other non-stick surfacing, and if you use a cast iron skillet, DON'T USE SOAP. EVER.)
6. Rinse sponge, wipe counter- and stovetops. Rinse sponge again in HOT water and wring dry.
7. Now do something else! (But dry your hands first.)
If you're like me, you may elect to put on a radio or other sound-emitting device to "keep you company" during this task. Keep in mind, however, that this method is VERY fast, so keep the picking to a minimum. (Yes, I have on occasion spent more time picking music than washing dishes. It's a procrastination thing.)