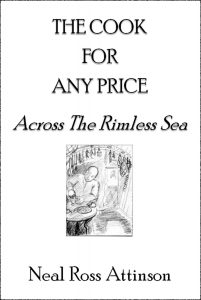 SHOUT IT FROM THE ROOFTOPS: The Cook For Any Price: Across the Rimless Sea is now an e-book.
A limitless THANK YOU! to everyone who has read piecemeal this 124,671-word collection of 80-odd Prosatio Silban tales over the past several years; I could not have gotten this far without your generous encouragement. Special thanks also to Ann (editor, spur, and fellow sailor), Ransom (gracious answerer of pesty questions), Alana (nifty cover artist), and Howard and Jean (exemplary inspirations).
This free e-volume is available in multiple e-formats (including PDF and HTML) from multiple e-retailers, including my e-publisher, Smashwords. (Need an e-reader? Download and install the free Adobe Digital Editions and/or Kindle for PC and/or Kindle for Mac utility, and have at.) B"H, the much-requested paperback edition will be in the offing once I master Amazon's formatting system.
It's great to have finally reached this point; I hope the long wait was worth it. Please enjoy!