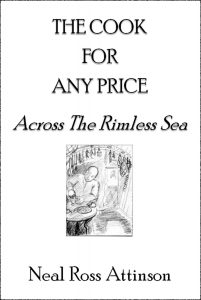 SHOUT IT FROM THE ROOFTOPS: The Cook For Any Price: Across the Rimless Sea is now an e-book.
A limitless and humble THANK YOU! to everyone who has read piecemeal this 124,671-word collection of 85 Prosatio Silban tales written (and blogged) over the past several years; I could not have gotten this far without your generous encouragement. Special thanks also to Ann (editor, spur, and fellow sailor), Ransom (gracious answerer of pesty questions), Alana (nifty cover artist), and Howard and Jean (exemplary inspirations).
Hear what others are saying about The Cook For Any Price …
Ransom Stephens, author of The Book of Bastards
"Sometimes you just need to let someone else deal with the BS of life. … Prosatio Silban is the man for the job!
"This intrepid chef travels a world that reminds you of places you've been, places you'd like to go, and places you'd prefer to avoid. With his old-school (really old) food truck, he achieves a view of the world (well, a world in a different time and a different place (a very different time and place)) that's sort of like Norman Rockwell would have had, if he'd been in that very different time and place. All the while, he leaves your mouth watering with recipe ideas! Semi-seriously, it's sort of like Patrick Rothfuss meets Julia Child.