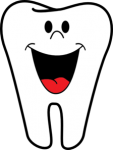 I FIRST NOTICED SOMETHING WAS wrong when I felt the hole in my upper right bicuspid.
I didn't know at first that it was a hole; I was scraping off some potato-chip detritus when my fingernail dipped unexpectedly. I must have something stuck there, I thought. Let's take a look in the mirror.
So I did. And my stomach knotted when I saw the black furrow surrounding the base of the tooth at the gum line.
With a feeling of dread, I examined my other teeth — the ones not broken over the years — and found similar lines of decay around a significant number of them. I've got to do something about this, I thought. But how can I, without cash or insurance?