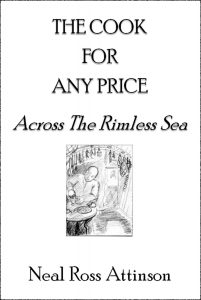 PROSATIO SILBAN ONCE MINISTERED TO the souls of the Uulian Commonwell's faithful. But now, his heartfelt devotion is to tend the palates and gullets he encounters on his journeys as a mercenary cook. Inspired by Don Quixote, J.A. Brillat-Savarin's The Physiology of Taste and the Dreamlands stories of H.P. Lovecraft, these tales are part culinary tour and part spiritual adventure. Join the Cook For Any Price on his strange and episodic quest to serve the epicurean wealthy, the bowl-of-beans poor, and everyone in between.
VOLUME TWO, More Commonwell Tales, IS NOW AVAILABLE! It's back to the Exilic Lands for our dauntless and resourceful holyman-turned-chef, where he seeks rewards both profitable and profound in a world unlike any you've ever visited.
RECIPE COLLECTORS! HAVING BEEN ASKED ON MORE than one occasion how to prepare meals (and eat!) like Prosatio Silban, Commonwell Cookery is here served forth by way of grateful reply. May these bones of recipes nourish appetites gastronomic and literary, and may the Flickering Gods smile upon your honest and sincere emulations.)
See what readers are saying:
Ransom Stephens, author of The Book of Bastards
"Sometimes you just need to let someone else deal with the BS of life. … Prosatio Silban is the man for the job!
"This intrepid chef travels a world that reminds you of places you've been, places you'd like to go, and places you'd prefer to avoid. With his old-school (really old) food truck, he achieves a view of the world (well, a world in a different time and a different place (a very different time and place)) that's sort of like Norman Rockwell would have had, if he'd been in that very different time and place. All the while, he leaves your mouth watering with recipe ideas! Semi-seriously, it's sort of like Patrick Rothfuss meets Julia Child.