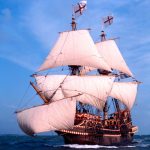 THERE I WAS, TYING AN intricate bit of decorative knotwork in the Golden Hinde II's hold, and feeling more than a little proud of myself. I was then just a beginner at that sort of thing, and the glow of self-regard was warming my busy hands.
Comes the captain, a grizzled veteran of a hundred-and-one voyages in a hundred-and-one vessels, to peer over my shoulder. I paused, waiting for him to tell me how grand was my creation.
"That's what it's supposed to look like," he said gruffly, and walked on.
To say I was crestfallen would be an understatement.