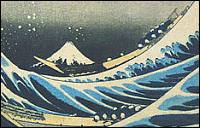 "WHEN THE CENTER IS MOVING, no quiet is.
When the center is still, no chaos.
Where is the chaos when there is no center?
Where is the center when there is no motion?"

– From the Red Papyrus in O-kaze Temple, an Egyptian Zen sect nestled in the deepest shadow of Mount Fuji. Follow the Serene Sphinx signs and tell 'em "Bob" sent you.