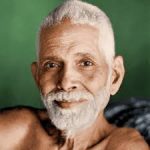 THE TECHNIQUE IS SIMPLE: JUST lay on your back, breathing, and take a complete and negative bodily inventory: "I am not my legs; I am not my feet; I am not my arms;" "I am not my mind;" et al.
Now: What's left after everything else is taken away?
This admittedly (and deceptively) simple teaching / exercise comes from Ramana Maharshi, an inadvertent Indian teacher of "Self-realization" whose method I am still just beginning to understand. But it resulted in one of the great spiritual experiences of my life.