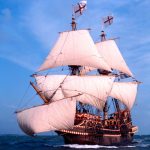 IF I HAD KNOWN THAT our galleon would collide with a freighter, I would have worn a life jacket.
The time was February 1988. Through a curious series of circumstances, I had signed aboard the replica galleon Golden Hinde II a few months earlier as a deckhand and docent, sailing around the Bay Area and down the California coast giving tours of our fine ship. Our plan that night was to motor (yes, we had a small engine) from San Francisco to the Farallon Islands, then sail down to Half Moon Bay. We left San Francisco well after midnight in order to take advantage of the outgoing tide, and were soon past the Golden Gate Bridge and into the open sea.
A cold and foggy 3 a. m. found me atop the foredeck on bow-watch (front lookout) with a couple of other chilly souls.