Tag: WIP
Works In Progress. The "typing" part of Writing — and the most challenging.
ELEVEN A. M., September the twenty-fifth — Rain hits Sonoma.
Aside
"THAT'S NOT ONLY BRILLIANT — IT'S 'why-didn't-I-think-of-that' brilliant."
A BUOPOTH IS A STRANGE beast: some say it is half-composed of men's dreams, others prefer not to speculate. But of the little that is known, one thing is certain: no matter what shape it takes, its eyes are the…
PROSATIO SILBAN WAS NOT KNOWN for nothing as "The Cook For Any Price." He had long ago foresworn the Sacreanthood and serving people's souls for serving their bellies and letting the souls look after themselves. Yet every now and again,…
"MY NAME IS 010180," SAID the friendly robot. "But you can call me 0."
FOLLOWING ON THE INFORMATION REVEALED in "Who Is This Prosatio Silban, And What Does he Want?" here is a chart listing the Exilic Lands' inhabitants. It's meant as a quick reference rather than a last word. Attentive readers will recognize…
HE COULDN'T TELL WHETHER HE loved beauty or women more until the day he called his mom and said "Guess what? I'm marrying a sunset."
WE ARE THE WRESTLERS-WITH-God, the ones grabbing His lapels and hollering "Speak up, sonny!" and don't worry about staining the carpets. And we like It that way. You who put God on a shelf Who pull Him out once or…
Aside
HOW DO YOU KNOW YOU are reading this?
Aside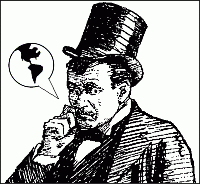 ASTUTE READERS OF THE METAPHORAGER may have noted the default use of the masculine gender (e.g. he, him, his, man, etc.). This is due neither to a slight against the better-looking sex nor a political statement, but the love of such phrases as "MAN ON MOON" or "essential love of mankind" or "There are some things Man was not meant to know," and as an XY kind of guy it just sort of comes natural to me.
My point is, if you're hung up on a phrase, you're missing the point.
"I SEE YOUR LOGIC, MADAM, and raise you a contradiction." (Line derived from conversation with Ann, whose blog is also very cool. — The Mgt.)