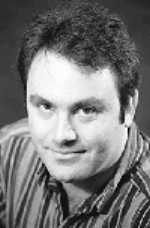 Neal Ross Attinson
... has, at various times, worked as a spa attendant, printer's devil, printer, bookseller (new and used), bike messenger, hawker, deckhand/docent, broadcaster, religious-school teacher and newspaper reporter. (And that's just the stuff he's been paid for.)
His reporting has earned professional accolades from the National Newspaper Association (Third Place, Best Breaking News Story of 2000; Second Place, Best News Feature of 2002), Society of Professional Journalists, Northern California (co-recipient, 2001 James Madison Freedom of Information Award) and the Sonoma County Press Club (co-recipient, 2001 Lincoln Steffens Investigative Reporting Award). He has also appeared in the pages of j. and The Forward, and is responsible for the now-vanished but secretly famous Obscure Research Labs (which may have provided a subcultural context for the later Matrix and Men In Black franchises).
In addition to freelancing, Neal's current projects include Around The Rimless Sea (mystic fables for religious misfits) and Ditch Lords (a mutant memoir of late-1970s suburbia). Since 2000 he has taught B'nei Mitzvah students at Congregation Shir Shalom, where he also leads an informal semi-monthly Torah study and, sometimes, leads services.
An expatriate Easterner (claiming Memphis, TN; Matawan and Kendall Park, NJ; Plymouth, NH; and Natick, MA as various degrees of hometown), Neal has lived in Northern California since 1977. He now resides in Sonoma with his wife and inspiration, Ann.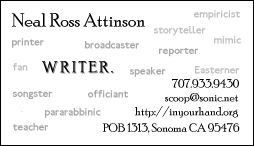 CLIPS
(These files are in PDF format,
for which you'll need Acrobat Reader.)