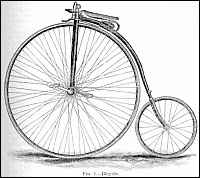 THERE IS ONE INFLEXIBLE RULE which, if followed diligently, will result in years if not decades of safe bicycling: Pretend you're invisible.
Now, many get the wrong impression on first hearing this advice — they hear "invisible" and think "invincible," as if an inability to be seen were some sort of safety asset. As a former bike messenger and longtime bike enthusiast, it's been my observation that many drivers either can't or won't see you — especially in city conditions. And that can be … problematic.
So take them up on it. If you assume that you are out there, naked, invisible, crushable, a potential ping-pong ball between iron paddles, you will not only have a much more realistic grasp of the situation but a better chance of surviving it.
If you realize that your safety begins with you, you can't help but become more invested.
Come to think of it, that's not a bad rule for life.